Just south of Máncora, in a small town called El Ñuro, you have the opportunity to swim with wild sea turtles. These green sea turtles gather around the fishing pier early in the morning and stay throughout the day. I've heard you are likely to see more turtles the earlier you arrive. Up to forty! They come in with the fishing boats as the fishermen feed them their unwanted catch.
Getting To The Turtles
We were staying in Máncora and planned to travel south to Organos and then on to El Ñuro via public transport. However, this plan fell apart at the first hurdle. Even though the bus journey from Máncora to Organos takes just twenty minutes and costs only two Soles, you can't buy a ticket without ID. We'd been told not to bring valuables, as you have to leave them on the pier when you go for a swim. So I didn't have my passport and therefore couldn't buy a bus ticket.
(If you do have ID and want to catch the bus, the station is in the centre of town. The coaches have EPPA printed on the side. From Organos you'll have to find another bus to El Ñuro or take a tuk-tuk.)
In the end, after a lot of traipsing up and down the main strip in Máncora, we found a tuk-tuk driver willing to take us to El Ñuro and back for sixty Soles. This included stopping at a beachfront restaurant in Organos that was obviously paying drivers to bring them unwitting customers. The price seemed a bit much, but it was getting late and I was getting frustrated, so in the end we just paid the tuk-tuk driver and went.
It was just past midday when we finally arrived at the pier in El Ñuro. Luckily there were still a dozen or so turtles swimming around the wharf. It cost ten Soles to access the dock and view the turtles. For a few more Soles it was possible to swim in a small roped off area next to the pier. There was also the option of paying another ten Soles for a boat trip. It was starting to feel very much the tourist trap, but we opted for the boat trip.
Swimming With The Turtles
We boarded the small boat with about ten other tourists. Life jackets, but no masks or goggles, were handed out. The boat soon set off and did a rather needless large circle from the right side of the pier back around to the left side of the pier. It took about twenty minutes, but apparently you can see dolphins (so they told me). We didn't see anything. In the end, the boat set anchor about ten yards from the roped off area next to the pier and we were told to jump in.
Once in the water all the frustration and annoyance washed away. The turtles were much larger than I previously realised and certainly had no fear of humans. They swam right up to me, bumping me and nipping at my trunks. I was able to use my GoPro to get these photos. I set the camera to record a video and automatically take a picture every five seconds. This way I only had to keep the camera pointed in the general direction of the turtles as I swam about. I ended up with a full video of our swim and plenty of photos to sort through later and pick the keepers. In total, we swam with the turtles for about twenty-five minutes.
After we'd finished, our tuk-tuk driver insisted on taking us to the beachfront restaurant in Organos for some mediocre overpriced food, before returning to Máncora.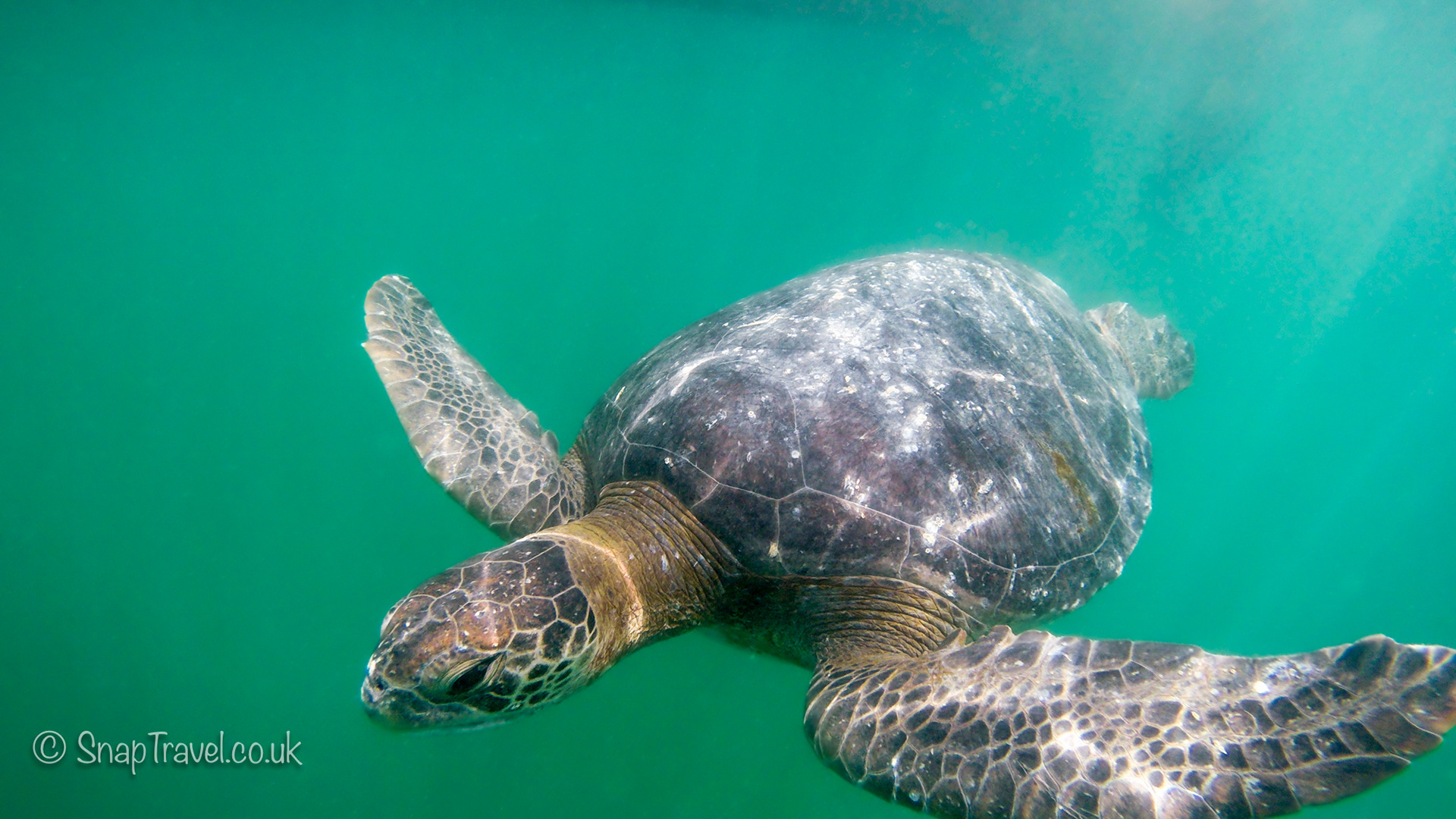 Conclusion
Swimming with wild sea turtles was a magical experience, but everything before and after was just a lot of bother.
In hindsight, a better option would have been an organised tour with one of the many travel agents in Máncora. I'm usually a very independent traveller and don't like going with these dreaded tour groups. But, I noticed while we were swimming that other tour boats provided masks, snorkels, and flippers to their customers. They also recorded professional videos for keepsakes. All these things, and the lack of stress, would have made the experience much more enjoyable. Plus, we would have arrived earlier and seen more turtles. If I'm ever in this part of the world again, that's the way I'd do it.