Ever since I hired a Honda scooter to tour around the south of Thailand, I've developed something of a fascination with motorbikes, and small Honda's in particular. I find beauty in the simplicity of these functional little machines. It's their practicality and reliability I admire as much as anything. In Southeast Asia, these bikes have become ubiquitous and mobilised the masses. They embody a sense of affordable freedom and independence. The Honda 'Cub' and 'Dream' have become two of my all-time favourites.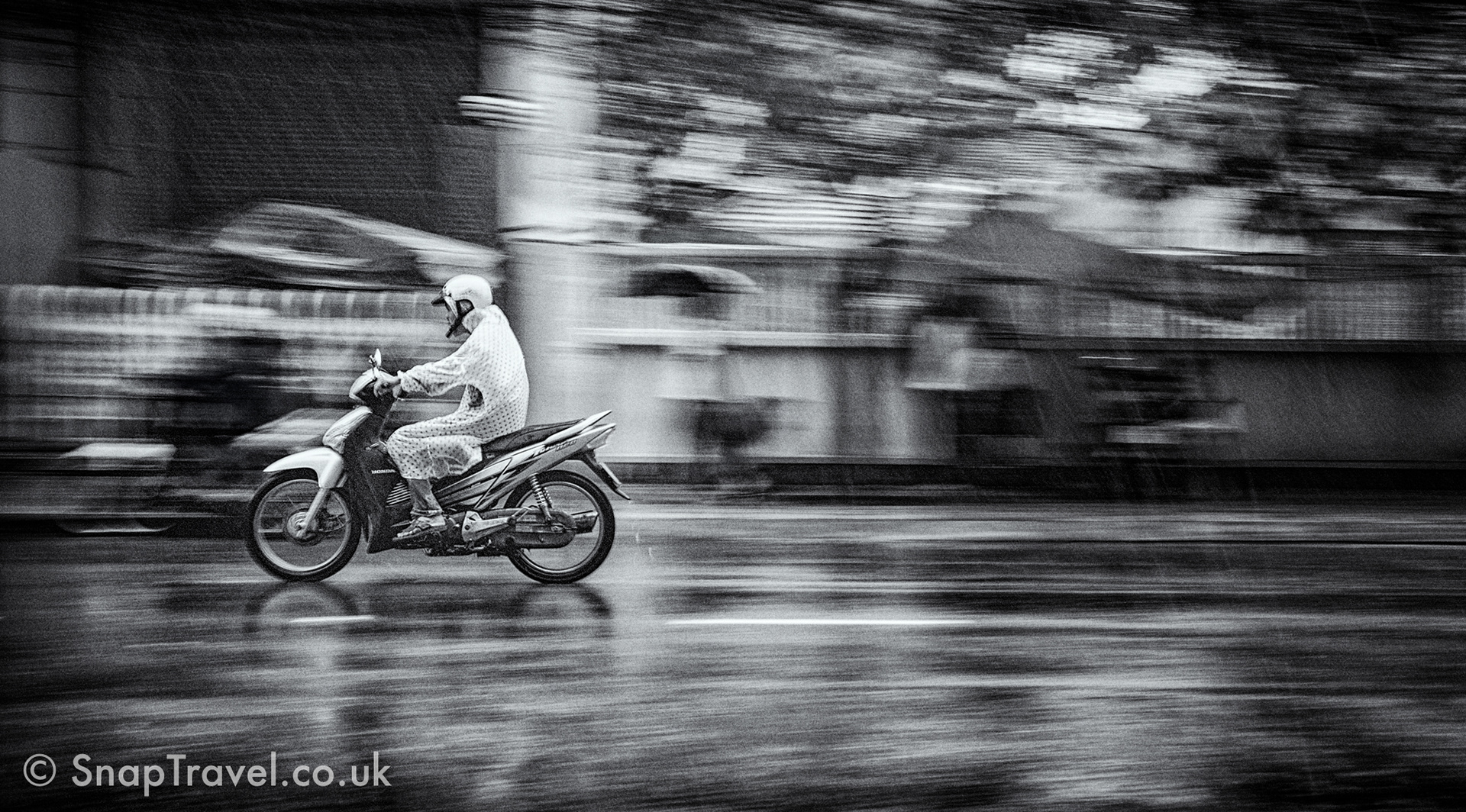 I took all these photos from the corner of an intersection in Nha Trang, Vietnam. It was early afternoon, and I was walking back to my hotel. I'd spent the morning on the beach and eaten lunch in a waterfront cafe. But, as usual in the rainy season, the bright morning was clouding over and the afternoon downpours seemed imminent. I carried my camera around my neck, but somewhat shortsightedly, I hadn't bothered to put it in a bag. Now the sky was turning black, and everyone knew what was coming. Street vendors pulled plastic sheets over their stalls. Pedestrians quickened their pace, rushing along with one hand holding their conical hats to their heads. My hotel was just one block farther. But, it was too late.

Cold water droplets hit my back, and dark splotches appeared on the pavement around me. I knew from experience I had just a few seconds to find shelter. As I ducked under the porch of a doorway, heavy rain began pouring from the sky. Thick curtains of water fell over each side of the porch. I knew my camera wouldn't survive even a few seconds in weather like this, leaving me no choice but to stay put and wait for the storm to pass.

Leaning on the doorframe, I watched two young women pass by on a bicycle. The pillion held an umbrella over their heads, and the rider peddled determinedly through the rain. I raised my camera and took a photo. The storm continued, and the street quickly became a shallow river. But bad weather did not discourage the motorcyclists of Nha Trang, and as they battled through the elements, I continued taking photos.

Setting a slow shutter speed on my camera, I panned around to follow each bike as it passed. This technique nicely blurs the background and gives the photo a sense of movement. My efforts were a little hit and miss at first, but I had plenty of time to hone my technique as the storm refused to relent. I ended up with around sixty photos in total.

Though I've tried developing these photos in various ways, I find a high contrast, black and white look best represents the way I remember the scene. Under sheets of heavy rain there were no vivid colours, (actually, there wouldn't have been the high contrast either, but I guess the mind plays tricks).

These images are a few of my favourites from that day. In the end, I spent about thirty minutes trapped on that street corner. It could have been a complete waste of time, but it turned out to be a very a productive half hour. I'm glad I didn't make it back to my hotel before the rain set in; sometimes good luck can come to you in disguise.