I took this photo on Khao San Road in Bangkok, Thailand.
The infamous Khao San Road, the backpacker ghetto in the Thai capital. The starting point for many an excited traveller setting out on their gap year adventure. With Bangkok being a transport hub where many international flights arrive, you'll often see them at the airport. Fresh eager young faces carrying shiny new backpacks, their introduction to bartering with a hard-nosed Bangkok taxi driver.
'Khao San Road, please.'
'1000 Bhat.'
'How much!?'
It's just a short street, but the name Khao San is often used to describe the street and the surrounding area with all its guesthouses, bars, nightclubs, and tourist markets. It sits on, what is technically the island of Banglamphu, though it's only separated from the mainland by a small canal. Its proximity to several of the main tourist attractions in Bangkok is perhaps the original reason for its popularity with budget travellers. The Grand Palace, Wat Pho, and Wat Arun, are just a short distance away. It's right next to the Chao Phraya River where boats can also reach these popular landmarks.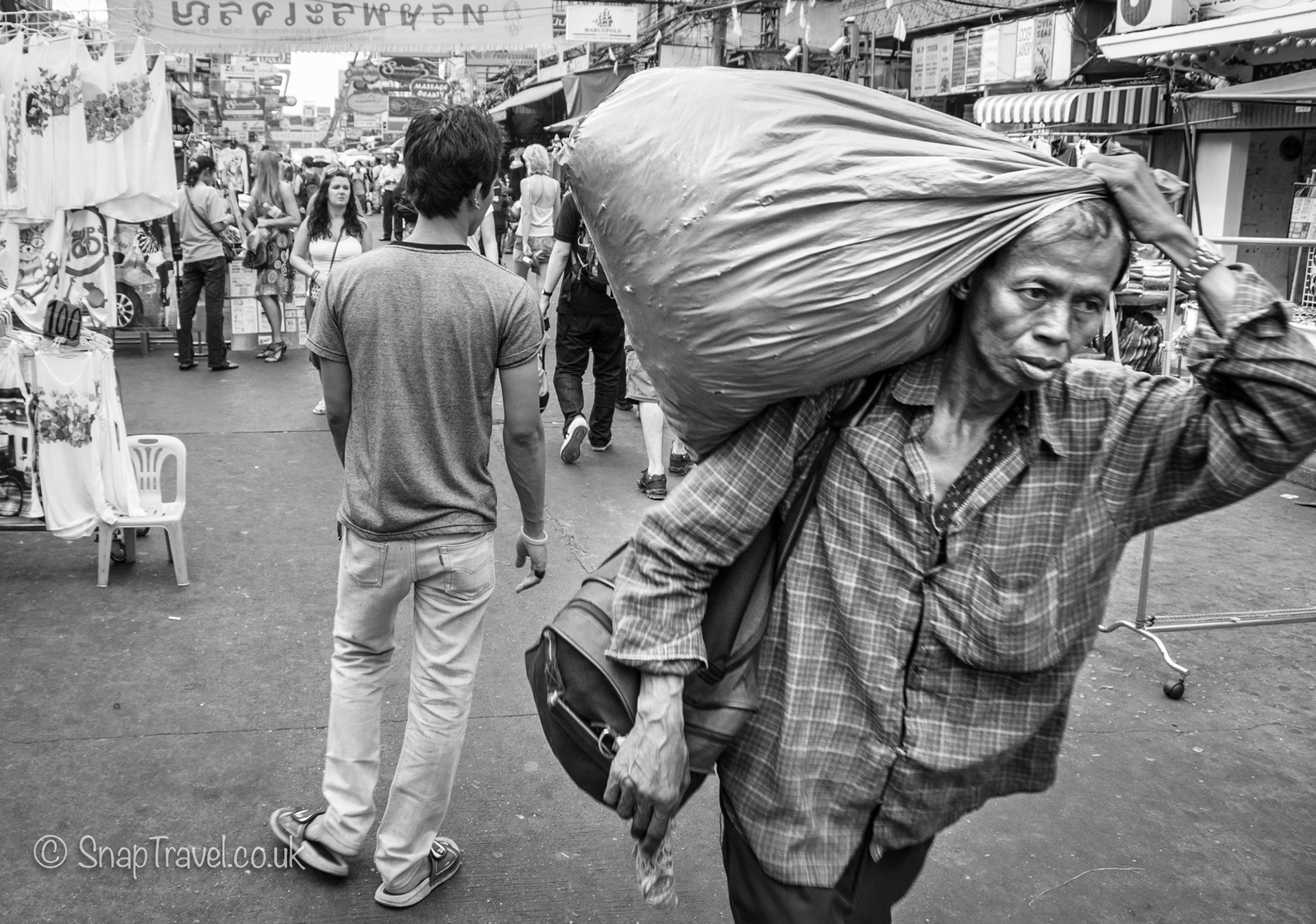 In Khao San the tourist out number the locals by a considerable margin. Most of the signs and menus are in English and everybody speaks English. It's backpacker central. Because of this, you'll often hear the dreary permatravellers use phrases like, 'not an authentic experience,' or 'not the real Thailand,' to describe places like Khao San. And though there's truth in this, it's nothing more than travel snobbery. Khao San Road maybe a bit of a tourist bubble, and it has a slightly theme park feel to it you'll grow weary of if you stay too long. It's also far from the city centre and the BTS and MRT (over and underground railways systems) go nowhere near it (yet).
But, don't let talk like this put you off. Of course it would be a mistake to visit a city that spans over 600 square miles (965km) and only see one small area. I would advise any visitor to get out and see as much of the city as possible. But, Khao San Road is a tourist attraction in its own right. To experience the true flavour of backpacker culture you should definitely spend time it this famous backpacker haunt. It's a fun and exciting place, and the perfect spot for meeting and sharing stories with like-minded travellers.
Welcome to the loud and brash unabashed backpacker hub that is Khao San Road, Bangkok.