I distinctly remember the first time I visited the Central Market in Phnom Penh. To me, the building didn't seem to match its surroundings; I thought it looked a little out of place. With a striking nineteen-thirties art déco design, a large central dome and four protruding arms, it was unlike any other buildings in the area. It looked a little like a giant space invader had landed in the middle of the Cambodian Capital; something that becomes more apparent if you're able to get an aerial view. I wondered what the locals thought in 1937 when this envoy of French imperial design replaced a small lake in central Phnom Penh. Probably something along the lines of, 'why have they built the market where a natural lake forms?' Which would be a fair question. To this day the area is still prone to flooding during heavy rains.
On my first visit in 2006, the market's pastel yellow paintwork was discoloured, dull, and flaking off in chunks. The whole building looked battered and rundown. I remember it as a dark and dirty place with illicit goods for sale. Though this could be my mind playing tricks on me. Memories seem to get less accurate and more colourful the older they are. But I'm sure I remember seeing things like tigers teeth and counterfeit goods for sale.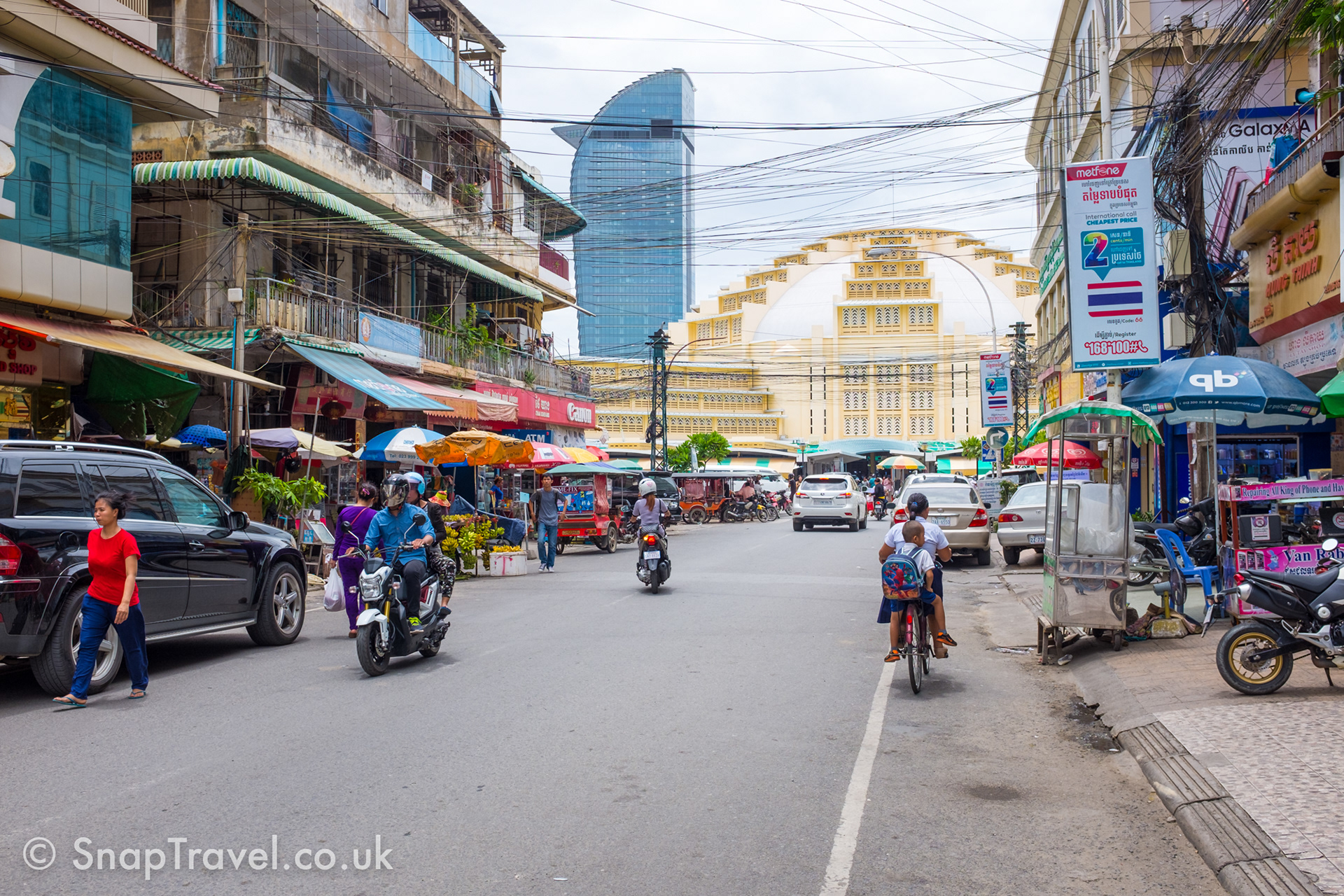 I photographed the market back then, in its rundown state. But sadly, due to a hard drive failure, I no longer have the photos. I'm afraid I rather stupidly learnt the importance of backing up the hard way. I've lost hundreds of photos taken before 2006. All the images you see here were taken from 2011 to 2016, after the building had gone through a two-year, $4.2m makeover.

Though the building was in poor condition the first time I saw it, under its damaged facade an air of elegance and grandeur remained. When Phsar Thmei, as it's known locally, first opened it was said to be the largest indoor market in all of Asia.

Phsar Thmei is popular with both travellers and locals alike. When I revisited the market in 2011 it looked like a new building, inside and out. The vendors too seemed to have refreshed their stalls. You'll find everything here from souvenirs and tourist trinkets, clothes and jewellery, to fruit and veg, seafood and fresh meat. Although it certainly can't claim to be the biggest market in Asia any more, I always feel this building retains a spirit of decadence from Cambodia's past.